Description: Oil pastel is a fantastic medium for transitioning young artists from black and white to color. Lessons will cover fine arts concepts such as color, blending, light and shadow, perspective and dimension, and layering and composition. Class is fun and upbeat, and students apply everything they learn immediately into their work. The bottom line goal is to help students become familiar with techniques of pastel use and color to the point where they can use pastel to express their own ideas in painting. They will be amazed at what they're capable of even when drawing isn't really their strong suit. Each student is required to finish and submit at least one final painting demonstrating the techniques taught in class. All submitted work will be cropped and mounted onto matte board by instructor and made ready for presentation, if time and class size allows.
Students wishing to earn a full high school art credit will need to complete 60 class hours that include instruction, practice time, a sketch diary of all lessons and painting assignments, and 2 special projects to be mounted for presentation. Other students will need to attend all scheduled classes and complete assignments and projects given by instructor.
Students will have the opportunity to showcase their work at the CHAT Spring Showcase.
Note: This class will start on January 18th. The tuition has been prorated to 14 weeks.
Tutor: Sandy Adler attended Austin Community College to pursue an A.A. in Fine Arts, Minneapolis Technical College to pursue an A.A. in Graphic/Commercial Design, and Crown College for a B.A. in Christian Education. She is currently a practicing and accomplished artist in both fine arts and graphic design. She is the Director of Marketing, Advertising and Promotion as well as Vice President of Heart of the City Ministries, a non-profit organization led by Sandy and her husband for the purpose of bringing racial and denominational unity to the Body of Christ in the Twin Cities area. Her paintings in oil pastel have been featured in businesses in the Osseo area. She has been teaching art for the past 15 years in area co-ops as well as after school enrichment programs in the local school districts, with over 160 students during the 20012-13 school year. In 2006 Sandy won a grant through the Metropolitan Regional Arts Council to bring her pastels class into a select group of inner-city schools, in order to provide supplies and instruction to students living at or below poverty level. An 11-year home school veteran herself, Sandy's passion is to make art instruction engaging and inspiring for students of all levels, and to help them truly learn to "see" the beauty of God's world around them as they learn art basics and secrets that hone their own skills and abilities as young artists.
Cost: $208, $218 or $228 (depending on registration date)
Level: Grades 7-12
Prerequisite: Sandy Adler's Drawing Basics class or tutor permission
Homework: Up to 2-3 hours per week
Text: none
Supplies: Mounting materials are included in the price of the class (above). The supplies listed below may either be purchased by students on their own, or ordered through the tutor. (The tutor is able to purchase supplies online for a radically reduced price at bulk rates, and it is also beneficial for students to be working with the same quality of materials). You can expect the supplies to cost between $26 and $42. Mrs. Adler will email a detailed supplies list to order from before classes begin, AND REIMBURSEMENT FOR SUPPLIES IS PAID DIRECTLY TO TUTOR SEPARATE FROM TUITION.
Following is the list of supplies to be either purchased by the student themselves or purchased through the tutor:
Caron d-Ache Neopastels - a professional quality brand of vibrant, silky pastels that blend beautifully and provide the best results. - $26.00
Blick Spiral Bound sketch pad 11 X 14, 70 sheets, 80 lb.paper - $8.00
Drawing pencils, set of 6 soft B leads -$5.00
Blick soap eraser - $1.00 each
At least one charcoal pencil - $2.00 each
Blending tortillions (NOT the harder blending stumps…) - $.50 each
Ruler and sharpener (bring from home)
In addition, students must purchase and bring the following to the first week of class:
A basic set of colored pencils including Black, Brown, Red, Orange, Yellow, Light and Dark Blue, Light and Dark Green, Purple, and Ochre if possible.
Samples of student work: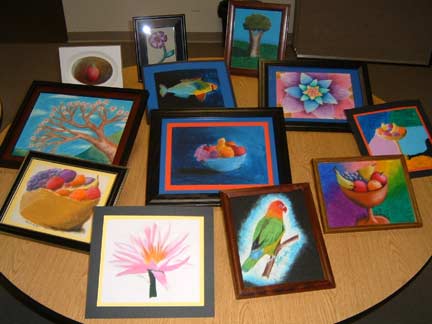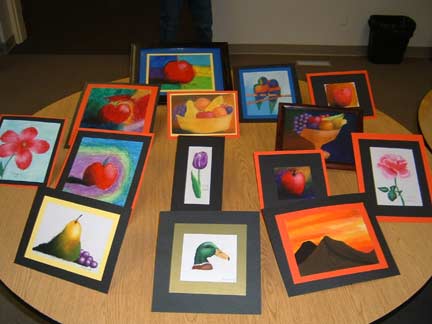 Image samples of the instructor's work: